We warmly welcome any volunteers who would like to make time available to assist us in keeping this no-kill haven for unwanted animals a clean and healthy environment where they can live out their lives if not adopted. If you have an interest in volunteering, please keep in mind the following information before you contact us:
Believe it or not, we consider you volunteering to just sit and pet our cats or walk the dogs here as work!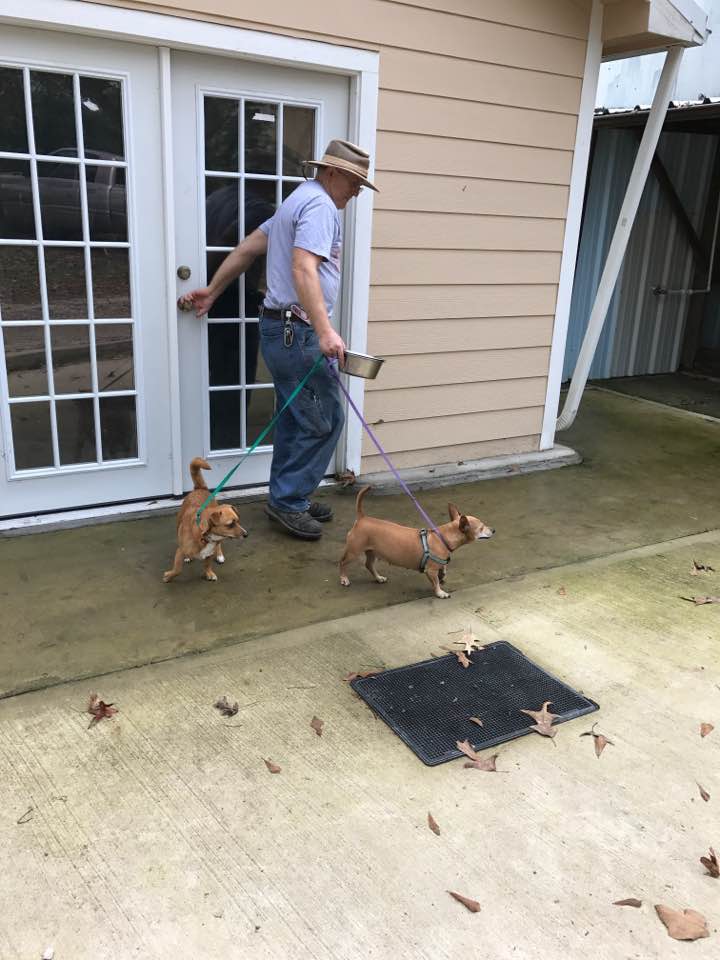 Yes, socializing animals to human contact is a big part of helping make them more loving--and adoptable. If you just want to come out to play with the cats or provide some exercise for the dogs, you are more than welcome! And we've got plenty of them for you to lavish your attention on. Just let us know when you first contact us that this is the area you are interested in helping with and we'll make sure you have all the play time you want.
Of course, there are a lot of chores to be done to keep things running smoothly and we would be very grateful if you want to pitch in to lend a hand there, too. We ask that you consider your schedule and contact us about an ongoing volunteer basis, rather than just once or twice. It can be whatever time you have available each week or two, but it is much more helpful when we can count on you to be there for the animals on a regular basis. We have a small staff that is constantly engaged in tasks and to take the time to go over what your duties would be is only useful if your commitment is ongoing. If you can't make such a commitment, please consider contacting us about a socializing visit--see above.
This is also helpful, requires no training and frees us to do tasks while you engage the animals. Please be aware that chores require some physical stamina, although you won't be asked to do any heavy lifting. But if you do not have normal physical agility, you may want to consider a socializing role, instead.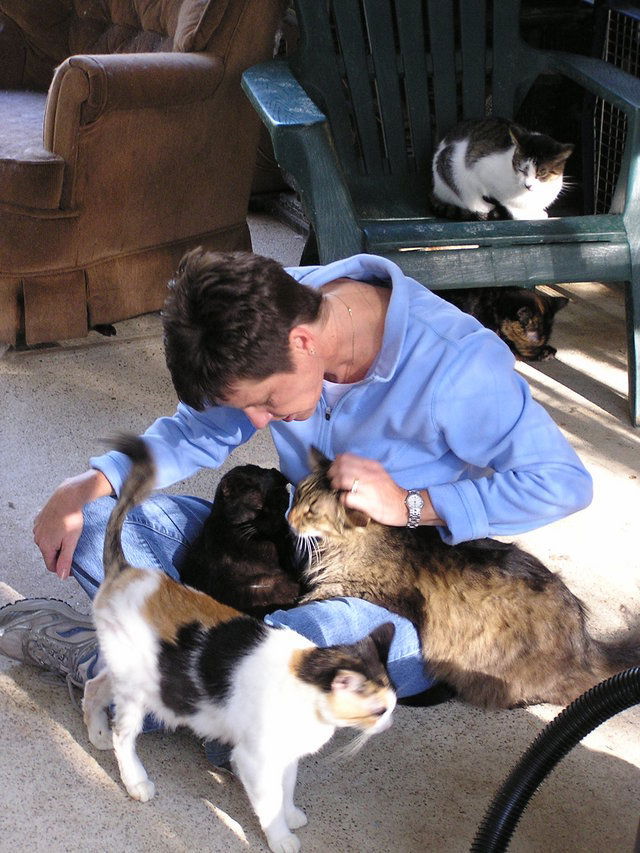 CATS--Our cattery is an indoor-outdoor mecca of kitty engagement, where the residents get along surprisingly well. There is always a need for feeding, litter box cleaning and general tidying up, so we would welcome your help in these areas. Please be aware that litter boxes have odors, cats sometimes have hairballs they regurgitate, and there are some duties that are less pleasant than others...but all of them are necessary for the well-being of our residents. If you really love cats, this will all be familiar to you. If you are unsure, volunteer to socialize with our cats and decide later if you would like to do more.
DOGS--If you're a dog lover, you know they can be playful to the point of rambunctious. We must be more careful in matching play/exercise opportunities with our dogs to the right volunteer, and this requires more supervision. Please let us know what your experience is with dogs and your physical size so we can find the best partner for you to engage with.
CONSTRUCTION--LWHA regularly plans expansions to better accommodate the many animals that we take in for care.These expansions are usually guided by Carlos, our director and Mike, our go-to volunteer for our facilities. We have enjoyed volunteer assistance in constructing pens and other areas in the past. If you would like to be involved in helping us with a permanent addition to our haven, please let us know of your interest.
CLOTHING--LWHA is set in a beautiful piney wood area, so you should dress accordingly. We recommend comfortable full length pants and sleeved shirts year-round, as well as closed toe shoes for your comfort and safety while working. If you are helping with a construction project, your clothing should be appropriate for the project to ensure your safety at all times.